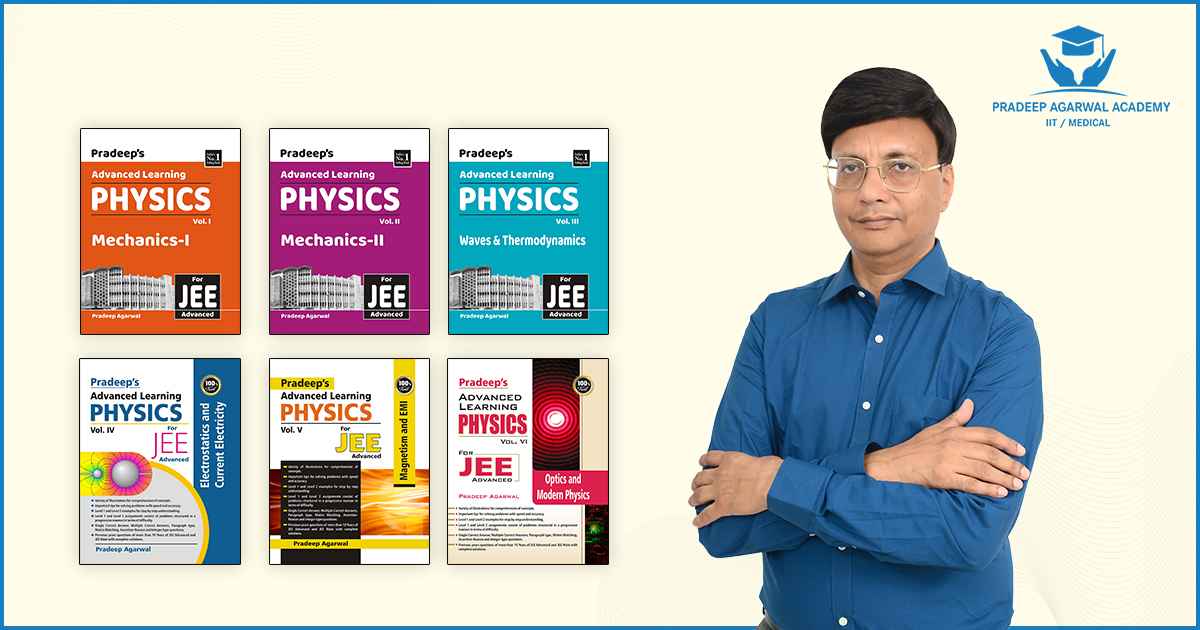 Crack JEE Advanced with Pradeep Agarwal's Physics Books
JEE Advanced is widely recognized as India's most prestigious and competitive exam for students who aspire to gain admission into the esteemed Indian Institutes of Technology (IITs). Given its high level of difficulty, succeeding in this exam requires extensive preparation and strategic planning. Among the three subjects tested in the exam, Physics holds significant importance, and a strong preparation in this subject is vital for securing a spot in the IITs.
To crack JEE Advanced and excel in the Physics section, you need a comprehensive strategy and a deep understanding of the concepts. The right set of books can be incredibly beneficial in achieving these goals and building your problem-solving skills. If you are wondering how to crack JEE Advanced or how to prepare for JEE Mains, then this blog is the perfect place to seek guidance. In this article, you will find expert recommendations on the best physics books for JEE, how to crack IIT JEE, and how to prepare for JEE Advanced.
Let's start with some useful tips for cracking JEE Advanced:
Essential Preparation Tips For JEE Advanced
1. Start early, preferably in Class 9: Starting JEE Advanced preparation early gives you more time to absorb the concepts and practice problem-solving, increasing your chances of success. Beginning in Class 9 can give you an edge by enabling a strong foundation in the basics.
2. Choose Mentors & Books wisely: The right guidance and study material can be instrumental in achieving your goals. Choose experienced mentors and trusted books to guide you through the preparation process. For instance, Pradeep Agarwal's Physics Books for JEE Advanced are highly recommended by experts and students alike.
3. Work smart, not just hard: Hard work is essential, but working smart is equally important. Focus on efficient time management, setting realistic goals, and prioritizing essential topics.
4. Balance Speed and Accuracy: JEE Advanced is a race against time, but it is essential to balance speed and accuracy. Practicing regularly and developing a problem-solving strategy can help you achieve this balance.
5. Enjoy the learning process: Enjoying the process of learning can help you stay motivated and improve your retention. Find joy in understanding new concepts and solving challenging problems.
6. Explore Alternative Solutions: JEE Advanced tests your ability to think creatively and find alternative solutions. Developing a habit of exploring multiple approaches to solving problems can be beneficial.
7. Keep Formulas & Concepts handy: Having formulas and concepts nearby for quick reference can save time and help avoid errors in problem-solving.
8. Divide preparation into levels: Breaking down preparation into smaller goals and milestones can make it more manageable and less daunting.
9. Create Your Own Short Notes: Making concise and personalized notes of important concepts and formulas can aid in retention and serve as a quick reference during revision.
10. Don't compare or follow others: Everyone's learning process is unique, and comparing yourself to others or trying to replicate their study methods can be counterproductive. Focus on your strengths and work on your weaknesses.
11. Eliminate Personal Distractions: Avoiding distractions such as social media or unnecessary internet browsing can help you stay focused and productive during your study sessions.
12. Stay Physically Active: Regular physical activity can help improve concentration, reduce stress, and promote overall well-being.
13. Regularly assess your progress: Tracking your progress and identifying areas for improvement can help you adjust your study plan and improve your chances of success.
14. Make Continuous Effort a Habit: Consistent and continuous effort is key to succeeding in JEE Advanced. Making it a habit to devote regular time and effort to your preparation can help you achieve your goals.
Now let's discuss the key features of "Advanced Learning
Key features of "Advanced Learning Physics for JEE Advanced" by Pradeep Agarwal
1. Emphasis on Speed, Accuracy, and Alternative Approaches: Pradeep Sir best physics teacher for jee has primary teaching approach is to cultivate his students' conceptual understanding, speed, and accuracy, and to encourage them to explore alternative problem-solving strategies. These books reflect this approach.
2. Comprehensive Theory Enriched with Illustrations and Important Tips: The book presents comprehensive theory with easy-to-understand illustrations that reinforce concepts. It also includes strategically placed tips for better understanding of key concepts.
3. Extensive Collection of Systematically Arranged Solved Examples: The books have a wide range of systematically arranged solved examples that cover all essential concepts. They are classified into two levels of difficulty, allowing students to gradually develop their problem-solving skills and build their understanding of the subject in a structured and progressive manner.
4. Systematically Arranged MCQs with Solutions for JEE Main and Advanced: The book includes a comprehensive collection of systematically arranged MCQs covering all question types in JEE Main and JEE Advanced exams. Accompanied by solutions, students can understand the reasoning and approach to solving each question, practice effectively, and boost their confidence for success in the exams.
5. 15 Years of Previous Year Questions (PYQs) with Solutions Included: The book comprises the last 15 years' Previous Year Questions (PYQs) along with their solutions, serving as a valuable resource for students to understand the exam pattern and gain confidence. Practicing with PYQs helps students identify their strengths and weaknesses and focus on areas that require improvement. This approach enhances their problem-solving skills and improves their exam-taking abilities, ultimately boosting their chances of success.
6. Comprehensive Solutions to All MCQs and PYQs Included: The book provides detailed solutions to all MCQs and PYQs, enabling students to understand the underlying concepts and problem-solving techniques. By analysing the solutions, students can identify their mistakes, learn from them, and improve their problem-solving abilities. The detailed solutions to MCQs and PYQs also serve as a valuable resource for self-assessment and revision, helping students prepare more effectively for the JEE Advanced exam
It's Time to Start your Journey to Success: Ace JEE Advanced with High Rank
To achieve success in JEE Advanced and excel in your endeavours, a meticulously designed study plan, in-depth understanding of fundamental concepts, and extensive practice are essential. Pradeep Agarwal's six-volume series, Advanced Learning Physics for JEE Advanced, provides a comprehensive and methodical approach to JEE preparation. It covers all crucial topics while providing ample practice questions to help you build your skills and confidence. Pradeep Sir's approach focuses on building strong concepts, speed, accuracy, and exploring alternative problem-solving strategies, which can help you tackle any challenge that comes your way.
Pradeep Sir is widely recognized as the best physics teachers for JEE, and his books have received high praise from both students and experts. In addition to the books, Pradeep Agarwal Academy best coaching institute for jee offers a range of resources to support your JEE Advanced preparation. As one of the top coaching institutes for IIT JEE, they provide high-quality online classes for JEE, expert guidance, and comprehensive study materials. With their resources, you can access personalized attention and support to enhance your understanding of fundamental concepts and improve your problem-solving skills. The Academy is also listed among the top 10 IIT JEE online coaching institutes and can help you succeed in JEE Advanced and maximize your chances of achieving your goals.