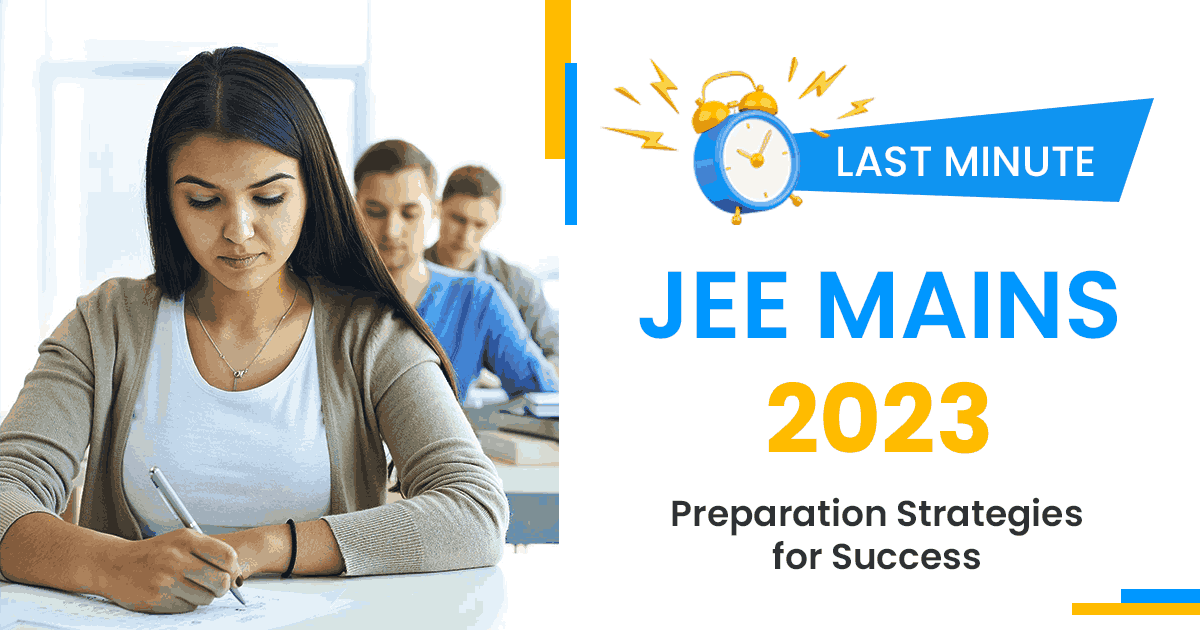 Last Minute JEE Mains 2023 Preparation Strategies for Success
Preparing for JEE Main 2023 is challenging, and with the exam just around the corner, many students might feel overwhelmed and stressed. But it's possible to pass the JEE Main exam if you study the right way and use the right strategies. In this article, we'll talk about some effective last-minute ways to study for the JEE Main 2023 exam that can help you do well. From revising important topics to solving previous year's question papers and focusing on time management, we will cover all the essential aspects of how to prepare for JEE Mains in the last few days before the exam. So, if you are looking for tips and tricks to boost your JEE Main preparation, read on to know more.
Here are some last-minute tips for JEE MAINS
Revise the important topics: Make a list of all the important topics you have studied so far and revise them thoroughly. Focus more on the topics that carry more weight in the JEE Main exam.


Solve previous year's question papers: Solving previous year's question papers is one of the best ways to prepare for JEE Main. It helps you understand the exam pattern, types of questions, and exam difficulty level. It also gives you an idea of the important topics frequently asked in the exam.


Practice mock tests: One of the best ways to get ready for the JEE Main exam is to practice mock tests. However, attempting mock tests alone is not enough to crack the exam. It would be best to have proper guidance and coaching to analyze your performance and work on your weak areas. This is where the best IIT JEE coaching in Gurgaon can come in handy. A good coaching institute can provide mock tests specifically designed to mimic the actual JEE Main exam.


Focus on time management: Time management is crucial during the JEE Main exam. Take the time to answer the questions within the given time limit. By doing so, you will be able to increase your speed and accuracy.


Don't start anything new: Avoid starting anything new in the last few days before the exam. Stick to what you have studied and focus on revising the important topics.


Take breaks: Studies can be tiring and stressful if done for long periods of time. Relax your mind and body regularly by taking regular breaks. You can do some physical exercise or meditation to refresh yourself.


Stay calm and confident: Feeling nervous before the exam is normal, but don't let it affect your performance. Stay calm and confident. Believe in yourself and your abilities.


Eat healthily and sleep well: A healthy body and mind are essential for exam performance. Eat healthy and nutritious food and get adequate sleep to keep your mind and body fresh and active.


Stay updated with exam-related information: Stay updated with all the exam-related information, like exam dates, timings, exam centers, etc. It will help you avoid any last-minute confusion or chaos.


Keep all the necessary items ready: Make sure you have all the necessary items, like an admit card, ID proof, stationery, etc., ready a day before the exam. It will help you avoid any last-minute rush or panic.
Get Ready to Implement These Tips
In conclusion, getting ready for JEE Main 2023 requires hard work, commitment, and a plan. With the tips and techniques mentioned in this article, you can make the most of the last few days before the exam and boost your chances of success. But it's important to remember that joining a well-known coaching institute can also help you reach your JEE Main goals in a big way.

A good coaching institute can give you a structured way to study, teachers with a lot of experience, and a competitive atmosphere that can push you to do your best. Therefore, if you are looking for the best coaching institute for JEE Mains 2023, you can go for the trust able institute Pradeep Agarwal Academy. The faculty and the methodology they use to teach the students are unique and easy to adapt. With the right ways to study and the help of a good coaching institute like Pradeep Agarwal Academy, you can pass the JEE Main exam and get into the college of your choice.