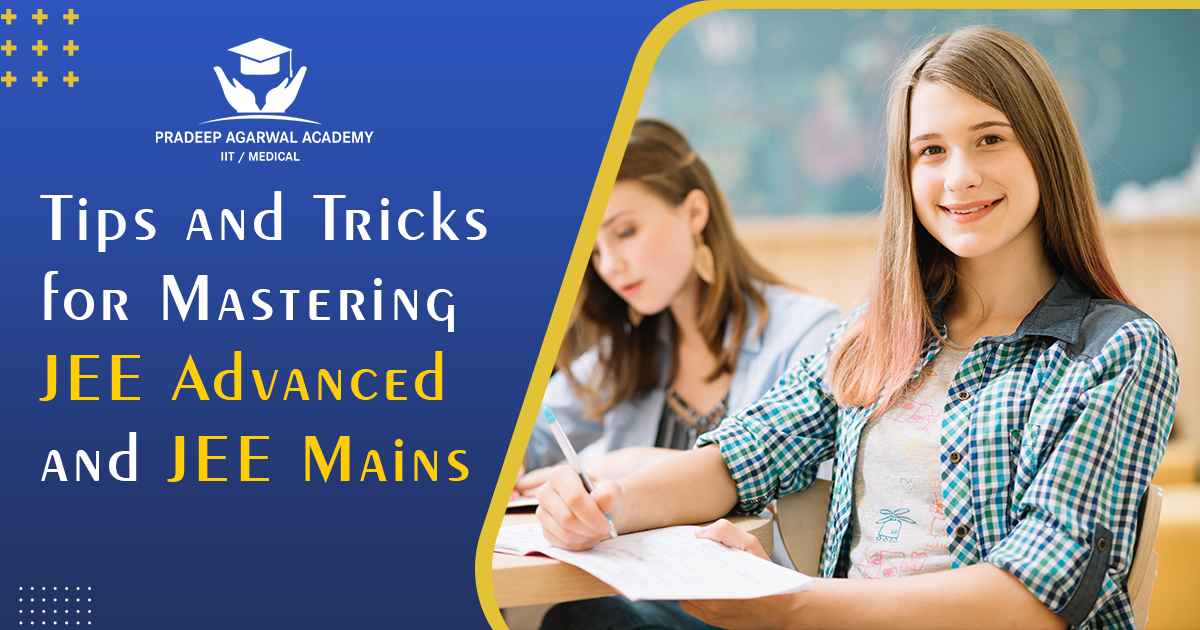 Tips and Tricks for Mastering JEE Advanced and JEE Mains
JEE Advanced and JEE Mains are two of the most competitive exams inIndia, and preparing for these exams requires dedication, hard work, and a strategic approach. The JEE is divided into two stages: JEE Mains, which is the first stage and is conducted by the National Testing Agency (NTA), and JEE Advanced, which is the second stage and is conducted by the Indian Institutes of Technology (IITs).
Here are some tips and tricks to help you prepare for JEE Advanced andJEE Mains, as well as suggestions for the best online coaching for JEE Advanced.
How to Prepare for JEE Mains and How to Prepare for JEE Advanced
1. Understand the exam pattern, syllabus, and types of questions: Familiarize yourself with the JEE Mains and JEE Advanced exam patterns, syllabus, and types of questions to prepare effectively.
2. Create a systematic study plan: Develop a study plan that covers all topics comprehensively and helps you identify and improve your weak areas. Divide your study schedule into manageable parts and set realistic goals.
3. Take practice tests: Practice tests are crucial to JEE Mains and JEE Advanced exam preparation. They help you identify your strengths and weaknesses, familiarize you with the exam pattern and level of difficulty, and improve time management, accuracy, and problem-solving and help you to understand how to preparefor jee mains.
4. Focus on time management: Time management is critical for success in JEE Advanced and JEE Mains. Practice solving problems quickly and accurately while keeping an eye on the clock. Prioritize confident sections to maximize your score.
5. Take care of your physical and mental health: Taking care of your physical and mental health is crucial during exam preparation. Maintain a healthy diet, get enough sleep, exercise regularly, and take breaks to avoid burnout.
6. Set realistic goals to achieve your dreams: Only by setting and meeting realistic goals, you achieve success. Goals help you to stay focused on what you want to achieve. Write down your goals, and believe in yourself and take daily consistent action.
7. When to start preparation: If your aim is JEE Advanced, the earlier you start, the better. However, it is important to study at your own individual pace while enjoying every moment of it.
8. Choose the Mentors Wisely: A good Mentor must be technically very sound, must be a good motivator and must create a system to be able to give personal attention to each student.
9. Choose the Books Wisely: Focus on one or two books that are exhaustive, contain a large number of practice problems in a well-structured manner and provide proper solutions.
10. Stay relaxed, relish the process: If your approach and planning is proper, the process of IIT preparation is full of excitement. Believe in yourself, take professional guidance, and practice solving problems fast with immediate clarification of doubts.
Best Online Coaching for JEE Advanced

Pradeep Agarwal Academy is a reputable coaching institute that focuses on quality education and has produced top-rankers in JEE Advanced, JEE Mains, BITSAT, NEET, and other competitive exams. Their personalized and effective learning environment, customized methodology, and multi-dimensional approach to problem-solving equip students with essential skills for competitive exams and to fight with the question how to prepare for jee advanced. The academy's experienced faculty, unique teaching methodology, and encouragement for students to challenge themselves make it one of the best coaching institutes for JEE Advanced and other entrance exams. Their online coaching classes and Physics books for JEE Advanced are highly recommended.